2006 QNap launched Turbo NAS TS-101, which is the first NAS with SATA interface in the world, and exclusively provides.
Q-RAID1 configuration for single drive model for data protection.
QNAP Systems, Inc., as its brand promise "Quality Network Appliance Provider", aims to deliver comprehensive offerings of cutting edge network attached storage (NAS) and network video recorder (NVR) solutions featured with ease-of-use, robust operation, large storage capacity, and trustworthy reliability. QNAP integrates technologies and designs to bring forth quality products that effectively improve business efficiency on file sharing, virtualization applications, storage management and surveillance in the business environments, as well as enrich entertainment life for home users with the offering of a fun multimedia center experience. Headquartered in Taipei
How to recover NTFS data from HDD after insertin into NAS?
HDD Spin Down (HDD Standby)
1. Slow performance
2. Disk drop out from RAID easily
3. Read/write error on file system
According to the reply from WD manufacturer.
Q:Are WD Desktop drives (Green/Blue/Black) good for RAID systems?
We have add the WD Desktop drives as the not suggested HDD on
HDD compatibility List
Note8
====================
compucon.co.nz/content/blogcategory/0/37/9/693/
The best hard drives for Intel's PCH RAID
WD RE(RAID edition) disks definitely have TLER.
http://www.tomshardware.com/review [...] 689-7.html
Even some desktop edition WD disks used to be "TLER available" via the TLER utility, and that is before WD decided to widen the gap between Desktop disks and Server RAID ones in the beginning of this year.
I'm looking for a more reliable RAID solution, but of course faster is always better. For example, maybe I should just pick a RAID card which is marked CCTL compliant and then pair it with CCTL ready drives to achieve the RAID stability. Any suggestion on which to choose from, CCTL, TLER or ERC? or SAS maybe?
users assembled a RAID using WD's Caviar Black series, which do not support time-limited error recovery ("TLER" ).
Yes, they will drop out of the RAID array after they start to fill up, because the firmware's error recovery logic may take too long,
and Intel's I/O controller hub will conclude that one or more HDDs are not responding.
BEST WAY is to stay with WD's RE (RAID Edition) HDDs, which are designed with TLER --time-limited error recovery.
The specs for each WD HDD will state if TLER is supported by any given HDD.
----------------------------
Yes, with WD RE hard drives and Intel I/O controller hubs' reputation and prevalence, I shouldn't worry too much about their incompatibility.
Just like you thought, TLER will most likely help lessen the chance for hard drives to be dropped from a RAID array. This has also been mentioned by an Intel engineer.
http://communities.intel.com/message/12098#12098
However, by looking at these reported problems:
"Random drive fails with new Matrix Storage Manager 8.9"
http://communities.intel.com/message/51299#51299
"Random drive fails with new Rapid Storage Technology 9.5 ?"
http://communities.intel.com/threa [...] 0&tstart=0
I am afraid WD RE TLER enabled disks will only alleviate the drop-out sympton somehow instead of providing a rock solid array, because even though they will be more responsive to ICHxR/PCH but may still not be a perfect match? The Intel support engineer told me that ICHxR/PCH does not truely support TLER/ERC/CCTL. He can't provide me a list of compatible hard drives for ICHxR/PCH.
-----------------------
I searched through Intel site for tested and supported parts for the PCH motherboards but failed to find info regarding compatible/tested hard drives. Tested memory is listed nonetheless.
http://www.intel.com/support/mothe [...] 029945.htm
I think two things can help assure the stability of matching ICHxR/PCH with TLER/ERC/CCTL drives:
1. Even though Intel's integrated RAID solution may not claim to be the perfect match for any specific vendor's(or vendor group's) standard but it should still claim categorically compatible to the extent that ICHxR/PCH is guaranteed not causing drop-out problem due to the prolonged disk's error recovery process(e.g., 5~10 seconds) as long as these disks have implemented TLER/ERC/CCTL.
2. Some compatibility list of hard drives for the ICHxR/PCH boards
-------------------------------
I read the threads and it appears that version 9.6 fixes the issues reported with 8.9 and 9.5. It also looks like using RE drives wasn't as bad as using Caviar Black drives. What will you do? Buy a RAID controller, use version 9.6 or no RAID at all? Edit: SAS drives are not more reliable that SATA drives, but they are faster. When connected to a good RAID controller with a BBU, writing is very fast. Just add more drives to improve performance.
----------------------------------
From a scientific point of view, controlled tests need to compare all permutations involving all IDE, AHCI and RAID modes with and without TLER (or similar) support in the HDDs attached.
And, with or without Intel's ICHxR chipsets, there is also the option to create "software RAID" arrays with Windows XP e.g. starting with dynamic disks.
Thus, IDE and AHCI can still be configured in such a software RAID.
We have 2 x 6G WD HDDs configured as a software RAID 0 (for speed); each is 1TB for a total of 2TB; and, this RAID 0 array is far from being full
Here's that 6G HDD:
http://www.newegg.com/Product/Prod [...] 6822136533
So far, so good; and, it's pretty fast too!
The following test was done with a 96MB file,
to force the test to read from the 2 HDD caches only,
in order to get a feel for the 6G difference (if any):
[Read more at link!]
http://www.wdc.com/en/products/pro [...] anguage=en
p.s. WD has sold so many millions of HDDs in recent years, and Intel's I/O controller hubs are also so ubiquitous, it's extremely unlikely that WD's RAID Edition HDDs are incompatible with any recent ICHx.
TLER/ERC/CCTL capable drives needed for PCH RAID
http://communities.intel.com/message/11995#11995
====================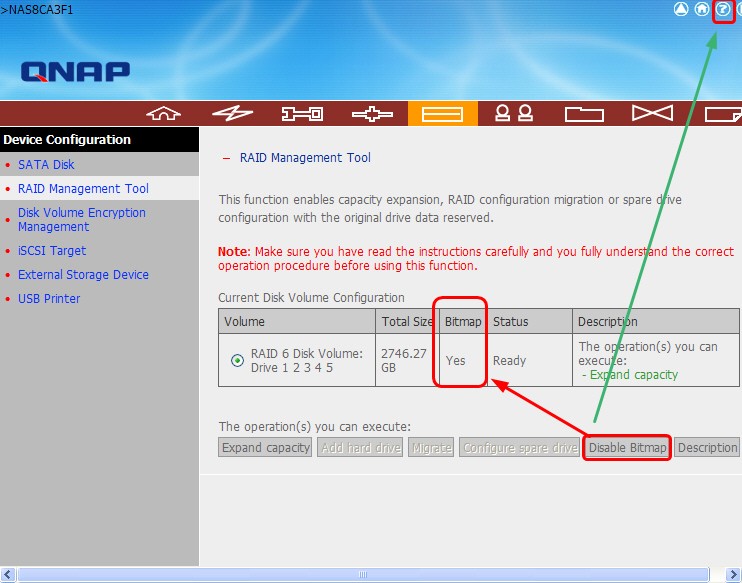 "Bitmap" enables faster RAID rebuild time due to a drive crash or plugged out (recover from degrade mode to normal mode).
Bitmap only works in RAID 1, 5, 5+hotspare, and 6.