Source
Is-It-On is a tiny single exe file requiring a very low amount of system resources.
Is-It-On shows ALL your Intranet/Internet IP / DNS / DHCP / WINS / Adaptors name and description etc...
Is-It-On detects your LAN behind a Network proxy connection.
Is-It-On identifies an Internet DISCONNECTED PC.
Is-It-On forces Remote Access Service (RAS) to Disable and Disconnect.
Is-It-On does NOT require any setup or configuration, just UnZip and run.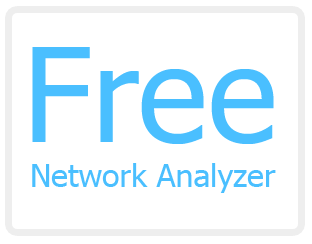 www.colasoft.com/download/capsa_free.exe

[

03910-20031-10215-87786-22256

]

El mayor problema de DnsSpeeder es que requiere que añadas a mano las direcciones de tus servidores DNS favoritos. Para facilitarte esta labor, hemos añadido algunos enlaces útiles en la sección Extras.

AdapterWatch

AdapterWatch despliega en su interfaz cinco pestañas que ordenan los datos sobre los adaptadores de red.

La primera recoge la información sobre las tarjetas de red, servicios (WINS, DHCP, DNS, etc.), transmisión de datos, direcciones, etc. En la segunda se encuentran las estadísticas TCP/UDP con datos de errores, conexiones y muchos detalles más. La tercera y cuarta se refieren a las estadísticas IP e ICMP respectivamente. La quinta y última, indica el nombre del Host, el del dominio, los servidores DNS, los tipos de nodos, el nombre de alcance DHCP, routing, ARP Proxy y DNS.En definitiva se trata de una herramienta que aúna en una sola interfaz una ingente cantidad de datos sobre todos los aspectos relacionados con los adaptadores de red.

AccessDiver 4.76

Accessdiver es una colección de pequeñas herramientas diseñadas para analizar el nivel de seguridad de un sitio web, encontrando cualquier error o punto débil posible.

Entre estas herramientas puedes encontrar aplicaciones para resolver las DNS de una dirección IP, para realizar pings, para obtener información sobre dominios, para analizar servidores proxy, etc.

Mediante el uso de todas estas herramientas podrás asegurarte de que tu sitio web funciona a la perfección, tiene una velocidad de descarga correcta y no presenta ningún fallo de seguridad.

Sistema operativo: Win95/98/98SE/Me/2000/NT

Jitbit

Net Profile Switch is a network switcher, aka network settings manager for notebook/laptop users. It switches between network settings (profiles) on the fly, keeping notebook users from having to reconfigure their network settings every time (browser settings, printer settings etc).

A network profile includes:
Network settings (IP address, DNS, gateway)
Web browser proxy settings (supports IE, Firefox and Opera)
Network drive mappings
Default printer
SMTP-server for email software
Eusing IPswitcher
Switch IP network settings "on the fly" without restarting
Switch Internet Explorer proxy-server settings
Switch your default printerSwitch your computer name and workgroupImport current network settings to the settingSystem-tray icon support, auto-start with windows100% Spyware FREE, NOT contain any Spyware, Adware or VirusesA network settings includes:
IP AddressSubnet Mask
Default Gateway
DNS Server
WINS Server
Computer Name
DNS Domain
Workgroup
Default Printer
Network-Domain
Proxy Settings
IP Switcher es una aplicación freeware y portable, que ocupa apenas 65 KB de espacio y es compatible con Windows 7, Vista y XP tanto en 32 como en 64 bits.
Sitio Web:
IP Switcher
===============
===============================
Pingers
Colasoft Ping Tool

===========
Free Mass URL Pinger 3.00
Free Mass URL pinger currently pings to 82 services. You can use the available list that comes with the software or you can add your own list of ping services.Y...
Download now
Size: 686MB License: Freeware Price: Free By: 3 Apps
-----------------
ALSEDI Pinger 1.03
A small FREEWARE utility displaying connection status to specified site/host
Download now
Size: 200 KB License: Freeware Price: Free By: ALSEDI Group


Konst Pinger 1.31
Konst Pinger is a program for ping and trace internet host.
Download now
Size: 0.99 MB License: Freeware Price: Free By: VisualSoft