Windows Remote Management (WS-Management)

Windows Remote Management (WinRM) service implements the WS-Management protocol for remote management. WS-Management is a standard web services protocol used for remote software and hardware management. The WinRM service listens on the network for WS-Management requests and processes them. The WinRM Service needs to be configured with a listener using winrm.cmd command line tool or through Group Policy in order for it to listen over the network. The WinRM service provides access to WMI data and enables event collection. Event collection and subscription to events require that the service is running. WinRM messages use HTTP and HTTPS as transports. The WinRM service does not depend on IIS but is preconfigured to share a port with IIS on the same machine. The WinRM service reserves the /wsman URL prefix. To prevent conflicts with IIS, administrators should ensure that any websites hosted on IIS do not use the /wsman URL prefix.
...

Source Thanks, Mathevs!!
I dived into WS-Management support in Vista / Longhorn Server Windows Server 2008 this weekend. There are a couple of caveats if you want to enable remote WS-Management based access to these machines. Support for remote management is also built into Windows Server 2003 R2.
WS-Management specification allows remote access to any resource that implements the specification. Everything accessed in a WS-Management world is a resource, which is identifiable by a URI. The spec uses WS-Eventing, WS-Enumeration, WS-Transfer and SOAP 1.2 via HTTP.
Since remote management implementation in Windows acknowledges all the work done in the WMI space, you can simply issue commands in terms of URIs that incorporate WMI namespaces.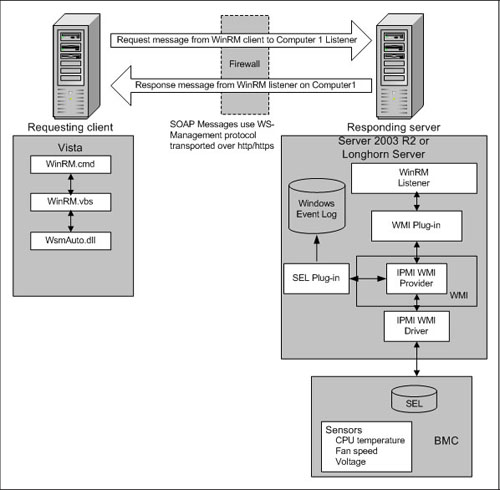 For example, the WMI class or action (method) is identified by a URI, just as any other WS-Management based resource. You can construct access to any WMI class / action using the following semantics:
http://schemas.microsoft.com/wbem/wsman/1/wmi

denotes a default WMI namespace accessible via WS-Management

http://schemas.microsoft.com/wbem/wsman/1/wmi/root/default

denotes access to root/default namespace
Since the majority of WMI classes are in root/cimv2 namespace, you should use the following URI to access those:
http://schemas.microsoft.com/wbem/wsman/1/wmi/root/cimv2