http://www.neowin.net/news/sumo-360199
SUMo stands for Software Update Monitor. Thanks to SUMo you'll be able to keep your PC up-to-date by using the most recent version of your favorite software ! Unlike build-in auto update features, SUMo tells you if updates are available before you need to use your software.
Features:
Automatic detection of installed software
Detects required updates / patches for your software
Filter / authorize Beta versions (user setting)
Ignore list : only tracks software YOU want to track
More compatibility and less false positive than others Update Monitors (according to users feedback ;-)
Internationalization support.
================================
http://www.halfdone.com/ukd/
New! You can get a beta version of the next Unknown Devices with Windows Vista support. I will be posting new beta versions as features are added but please give it a shot and let me know if you have any issues at
catfish@halfdone.com
. The beta version works with Win95, 98, 98se, 2000, XP, 2003 and Vista.
Download Beta 1.4.20
(June 2, 2007)
Added pastebin upload option. See http://www.halfdone.com/pastebin/?id=1-F94 for example
Added Zip file support (Don't extract DeviceLists.zip). Future version will allow using zip or not.
Now works on the device lists in memory, in most cases will detect faster, expecially from older systems and slow drives (like floppies) at the expense of using more ram.
Improved Win9x detection (Thanks Cliff).
Finally fixed the crash that would happen on shutdown
Switched to usbdevs.txt from SIV. Future version will allow using either usbdevs.txt or usb.ids
Added more computer details like Chipset and product key
I also setup new forums! Visit
http://forums.halfdone.com
, where you can post comments and bug reports about the site and Unknown Devices. As always you can still
email me directly
if you wish otherwise.

* Download latest pci update at Craig's website (right click, save link/target as...
---------------------------------
http://www.majorgeeks.com/files/details/unknown_devices.html
To help find unknown devices and figure out what they really are.
Tips:
- Press F3 to search the selected text on the
internet. (Ctrl-F3 to search without the "+drivers")
- Press F2 or Ctrl-C to copy selected to clipboard
- Using an item under Full Details for a websearch
will likely give you better results
Limitations:
- This program only knows about PCI and AGP
devices. It will not be able to help with ISA based
devices and original PCMCIA cards.
- Also this program shows all devices found in the
registry including devices that no longer exists! Will
be fixed when I figure out how.
- This program might not display the unknown icon
for some devices even if Windows really doesn't
know what it is. If you see one please email me
with the EXACT name windows detects it as like
"Standard PCI Graphics Adapter" so I can add it.
Pcidevs.txt
PCI detection is provided by Craig Hart's pcidevs.txt. See his webpage at
http://members.datafast.net.au/dft0802/
for updates to the file and more info.

Screenshot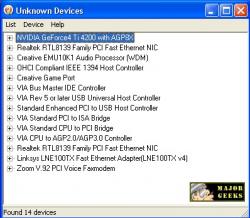 ==========================
http://www.majorgeeks.com/files/details/graphical_interface_to_regsvr32.html
This program allows to register/unregister DLLs using RegSvr32 tool which is included with Windows. This program is very easy even for beginners. Additionally, it shows a way to find windows\system directory location properly. A handy utility that will help you avoid the inconvenience of running regsvr32 from the start menu all the time.

Screenshot

==========================
SIV - System Information Viewer
| | |
| --- | --- |
| siv.zip | SIV Unicode Release Kit for Windows XP and later systems. You should use SIV32X.exe on 32-bit Windows x86 and SIV64X.exe on 64-bit Windows x64. |
| siv32l.zip | 32-bit SIV ASCII add-on that is needed for the legacy Windows 2000, NT4 and 9X systems. |
| siv64i.zip | IA-64 SIV Unicode add-on that should be used on Intel Itanium Enterprise Servers. SIV64I.exe is not for AMD64 or Intel64 64-bit x64 systems. |
| SIV Beta | Doing Menu->File->Download->SIV Beta will download the latest SIV Beta. The SIV Beta should not be mirrored as it changes frequently. |

Note that siv.zip is always needed as it contains the device description files, SIV kernel drivers and the SIV resource DLL. The add-ons should be placed in the same folder as the files from siv.zip.
--------------------------------------------------
http://www.majorgeeks.com/files/details/siv_%28system_information_viewer%29.html
'System Information Viewer' is a general Windows utility for displaying lots of useful Windows, Network and hardware info - CPU info, PCI info, PCMCIA info, USB info SMBus info, SPD info, Machine Info, Hardware Sensors, Networked computers, Operating System Information and more. Uses pcidevs.txt for the PCI devices, usbdevs.txt for the USB devices, mondevs.txt for monitor descriptions and pcmdevs.txt for PCMCIA device descriptions.
Change Info:
Improved Intel Haswell support and updated to use the latest Intel logos. Added initial AMD Annapurna (Richland) support. Revised nVidia Optimus GPU reporting to prevent forcing the GPU back online. Added generic support for Embedded Controller ACPI Method based Temperature and Fan Speed reporting. Added initial ITE IT8731F and IT8732F sensor support. Resolved ASUS P5B motherboard ATK0110 conflict with Intel QST, QST Voltage monitoring and CPU Fan Speed reporting. Added reporting of Matrox MGA G200/G200eH/G200eR/G200eW WPCM450 clocks and G450/G550 Warp clock.