Source:
Emsisoft.com
BEST IN TEST! June 2009:
99.7% detection rate in antivirus comparison test of
Malware Research Group!
Unlike other malware protection products, a-squared Anti-Malware was designed to run parallel with other antivirus and firewall software without troubles.
Version 4.5.0.13 - 6/8/2009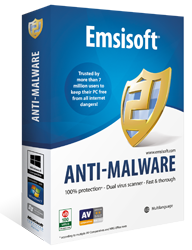 Comprehensive PC protection against trojans, viruses, spyware, adware, worms, bots, keyloggers, rootkits and dialers.
2 cleaning scanners in 1:
Anti-Virus + Anti-Spyware
2 guards against new infections:
signature scan + behavior analysis
Comparision

2 scanners are better than one: Anti-Spyware + Anti-Virus!
Not just any scanners, but a combination of two world class products - the a-squared Anti-Spyware, and the Ikarus Anti-Virus engine. Latest tests approve that both are cutting edge in Malware detection.
No doubling of the scan duration as would be the case with two separate scanning programs. Considerable performance improvement is possible thanks to the integration of the two engines on the lowest level.
2 guards are better than one: behavior analysis + protection while surfing
Unlike conventional protection systems a-squared Anti-Malware does not only check files for known Malware patterns before starting a program, but it also constantly monitors the behavior of all active programs and raises an alarm as soon as something suspicious happens.
Typical ways of infection are disabled in advance. Websites that try to plant Trojans or Spyware or that offer deceptive contents are blocked by the surfing protection.
Signature updates at least 5 times per day, in combination with the zero-day protection of the behavior analysis this guarantees the best possible protection from new infections.
The perfect security solution
a-squared Anti-Malware provides reliable protection from:
Stop Malware before it has a chance to harm you. The Background Guard prevents dangerous programs from becoming active on your PC, blocking Malware through the use of unique behavioral analysis technology.
The Malware-IDS in detail
Benefit from Malware-IDS protection technology
Regardless of whether you are a computer expert or a beginner, you will quickly become familiar with a-squared Anti-Malware. You don't need any specialist knowledge to free yourself from Malware.
More security with behavior based Malware detection
a-squared Anti-Malware includes a Background Guard, which recognizes and blocks all dangerous programs before they have a chance to cause any damage. The unique new Malware Intrusion Detection System (Malware-IDS) immediately warns you when a program attempts to perform a potentially dangerous operation. It does this for every program, including those that may appear harmless at first sight!
The following types of behavior are monitored:

Backdoor related behavior

Spyware related behavior

HiJacker related behavior

Worm related behavior

Dialer related behavior

Keylogger related behavior

Trojan Downloader related behavior

Injection of code into other programs

Manipulation of programs (patching)

Invisible installations of software

Invisible Rootkit processes

Installation of services and drivers

Creation of Autostart entries

Manipulation of the Hosts file

Changes of the browser settings

Installation of debuggers on the system

Simulated mouse and keyboard activity
Extras:

a-squared Emergency USB Stick
a-squared HiJackFree
Enjoy full control with manual detection and removal. More advanced users will appreciate the integrated a-squared HiJackFree tool, which lets you analyze the processes, autoruns and ports of your system to manually remove all types of Malware.
All about HiJackFree