support.amd.com/us/gpudownload/Pages/index.aspx
support.amd.com/us/gpudownload/windows/Pages/raid_windowsXP32b
Name
File Size
Revision Number
Release
Date
Download
Link
South Bridge Driver
17.6 MB
11.9
9/28/2011
Download
Description:


Package Includes:

South Bridge Driver
Raid Driver
76.3 MB
11.9
9/28/2011
Download
Description:


Package Includes:

Raid Driver
sevenforums.com/tutorials/66010-sata-drivers-load-windows-xp-setup-dual-boot.html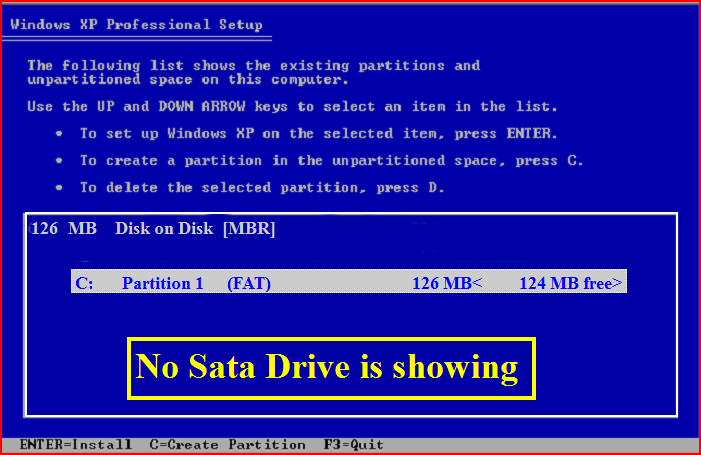 1)
Copy your SATA
drivers
to a
floppy disk
.
NOTE:
Keep this disk in a safe place, as it will be need to use in the Recovery Console.
NOTE:
You cannot use a USB flash drive for this.
2)
Press
F6
at the first screen.
SCHEISSE!
Slipstreaming as possibility?
This should be possible.
CC_0106 refers to AHCI mode. CC_0104 refers to RAID mode.
[

HKEY_LOCAL_MACHINE

\

SYSTEM

\

CurrentControlSet

\

Control

\

CriticalDeviceDatabase

\

pci

#ven_1002&cc_0104]
That's one line.
==============
Gigabyte MA790X-UDP3 - SB750
2x 74GB - One currently holds the operating system and the other is empty.
1x 250GB
---------------------
There is another aproach.
Read your motherboard manual. Attach current system hard disk to Port 4 or Port 5.
Goto BIOS. Set RAID mode, but IDE emulation for Port4/5.
Boot XP, system is at IDE mode still.
And RAID controller is available. install RAID driver.
Clone system to 250GB.
Connect 2x 74GB to Port 1 and Port 2. Build RAID. Boot 250GB hard disk. Clone system to RAID.
=====================
http://www.msfn.org/board/topic/135840-integration-of-amd-ati-sb7xx-textmode-raid-ahci-drivers-on-an-xp/
To make the integration of the needed AMD/ATI textmode drivers into a bootable Windows XP (32/64bit) CD easier and safer for you, I have prepared 2 small sized driverpacks, which can be downloaded here:
for Windows XP:
32bit AMD/ATI SB7xx RAID&AHCI Driver v9-4 (WHQL)
for Windows XP x64:
64bit AMD/ATI SB7xx RAID&AHCI Driver v9-4 (WHQL)
Just unzip the appropriate package and integrate it as textmode driver by using nLite.
Remarks:
Contrary to the v9-6 RAID drivers the v9-4 ones do support nearly all available AMD/ATI SB7xx RAID Controllers.
I have reorganized the driver folder structure and the content of the TXTSETUP.OEM file to minimize the failure risk during the XP installation.
page__st__120
Thanks for your searching, finding and uploading these new AMD AHCI/RAID textmode drivers for Windows XP/XPx64 dated 04/06/2010 (32bit) resp. 03/24/2010 (64bit).
Since the original AMD textmode drivers
v3.2.1548.37
only will support AMD SB7xx AHCI/RAID and AMD SB8xx RAID systems and
have some needless entries within the TXTSETUP.OEM files, which may cause error messages regarding "missing files" while installing the OS,
I have customized them.
Here are the download links to the original and WHQL certified drivers, where I have just cleaned the TXTSETUP.OEM files:
>32bit AMD SB7xx & SB8xx AHCI/RAID driver v3.2.1548.37 prepared for the XP integration<
>64bit AMD SB7xx & SB8xx AHCI/RAID driver v3.2.1548.37 prepared for the XP x64 integration<
Attention:
These drivers will not work with AMD SB6xx chipsets, because the HardwareID's are missing!