Source:
Five Best Linux Distributions
(excerpts)
In the
call for contenders
, we asked not only which Linux distribution was your favorite, but a note on why, with the hope that readers new to Linux would learn a thing or two. You responded in force. This was the most popular Hive Five to date, with over 800 votes and many helpful comments.
Which Linux Distribution is Best? (Poll Closed)
64%
Ubuntu/Debian/Linux Mint (10901 votes)
9%
Fedora (1557 votes)
8%
Gentoo (1290 votes)
7%
Arch Linux (1245 votes)
7%
openSUSE (1230 votes)
5%
Other (816 votes)
---
Blair Mathis
Defining the best Linux distros is like defining the best car--one does not exist; instead, the best cars are the ones that meet your needs, and your needs may vary wildly from the needs of another person.
The eight distros below are listed based on several different criteria--community, usability support, etc.
This article avoids, for lack of a better word, "general" distros--for example, Debian isn't on the list because Ubuntu is; overall, Ubuntu is the better option for most users over Debian. This list covers several different types of distros: full desktop, LiveCD, and lightweight, etc.
Ubuntu
Let's say you're completely new to Linux, and you're looking for a place to start. You're the exact image of an everyday user--email, homework, Internet, music, slight photo editing--and you just want a distro that is easy, that you don't have to invest much time in learning, that works well, and that many other people use. If that sounds like you, then Ubuntu is the place to look.
Ubuntu is a full desktop operating system that is robust and regularly updated, and is based on Debian. It is easy for everyday users to use--there is a small learning curve and a large community. Most Linux tutorials found online are based on Ubuntu, which is another reason users new to Linux should give Ubuntu a serious look.
Installing Ubuntu is a simple task anyone can do, the most complicated task being choosing how much of the hard drive to give the install--and that only requires a check box and slider, so you can image how simple the rest is.
Software is free and open source, and can be downloaded via Add/Remove Applications, where you'll find almost every type of software you could want, all the way down to Japanese dictionaries and astronomy tools.
Ubuntu uses Gnome by default, but for those who prefer KDE, there's Kubuntu; Xubuntu uses XFCE for slower systems; Edubuntu is a version specifically for education; there's even Eeebuntu for Eee PC netbooks.
Sabayon
Sabayon is to Gentoo what Ubuntu is to Debian--it's a Gentoo fork, and a very good one at that. If you're having issues with Ubuntu, you have past experience with Gentoo, or you'd rather get your feet wet with Gentoo then Debian, give Sabayon a shot.
There are two versions of Sabayon--the full desktop version, and a mini version, which is ideal for older computer, low-capacity netbooks, or just to reduce the size of you install.
Sabayon is released as a LiveCD and can be easily installed from that. During installation, you can choose to install the default KDE interface, or instead add Gnome or XFCE. The rest of the installation is identical to Ubuntu, and involves selecting simple settings.
Desktop effects are activated by default in Sabayon, and coupling that with the default KDE guarantees more eye-candy than you can imagine. Installing software is now simple due to the Entropy package manager. You can scroll through the available software and check the box next to it to install the software.
Knoppix
Knoppix defaults with the KDE interface and is a relatively small distro. It, like Ubuntu, is based on Debian. It is ideal for those who want to access a computer with an inaccessible operating system, for backing up files off a hard drive with a corrupted OS, or for simply running a lightweight system on an old computer. One of the best features is it's ability to find and connect to just about any network.
It comes default with 1000 software packages and runs the LXDE, a lightweight and fast interface. If you want to use the operating system consistently, you can create a persistent home directory, which allows you to save your data for later access. In addition, you can save your data over the network on a different computer or onto a flash drive/hard drive.
Crunchbang
This distro is ideal for those who enjoy Ubuntu, but don't want the bloat; also, it is the best option for those who want Ubuntu, but don't have the hardware to support the distro.
Puppy Linux
Puppy Linux is a completely independent distro and is actively updated and changed, and has a large user base--it is a LiveCD distro and is, like Knoppix, intended to run as a LiveCD or from a USB thumb drive. The difference comes in the fact that Puppy Linux is loaded into the RAM, allowing the physical disc to the be removed, whether a CD or USB drive.
It comes with a suite of apps that allow you to do all the basics: chat, Internet, email, photo editing, VoIP, etc. It is available in different 'puplets' which are versions of Puppy Linux that offer different feels/interfaces. A good example is Vesta Puppy, which is a joy to use.
PClinuxOS
This distro has worked it's way into the heart of many a Linux user, and is a popular option. It is based on Mandriva. It comes default with KDE and is available as a Gnome version. Software installation is simple with the Synaptic Package Manager via it's own software repository. A big feature of this distro is that it's easy to remake as your own via mklivecd.
Because of the mklivecd feature, there are many remastered and distributed versions of PCLiS, including lightweight options, different languages, versions specifically for businesses, etc.
If you want a desktop system that runs fast and has a versatility to make your own version, PClinuxOS is the distro for you.
Damn Small Linux
Damn Small Linux is only 50MB--you can't get smaller than this. The lightest, fastest Linux distro you can find, DSL is so small, you can easily keep it on your USB thumb drive as a tool when situations get sticky, for use on computer's that are not your own, and on systems that are so old, you couldn't run anything else. It can run completely within RAM (at least 128MB), making your computer as fast as possible.
This OS will expand dynamically as you add apps. It comes default with music and video player, an FTP client, web browsing chat, spellcheck, pdf viewer, PCMCIA and USB support games, ghost printer, and more. You can add items as you see fit, and save your data to a persistent directory or onto the extra space on a USB drive.
In addition, DSL can be run from directly within Windows, making it even more versatile.
Linux XP Desktop 2008
Lets say you're looking to switch from Windows to Linux, but the thought of a different interface terrifies you. Linux XP Desktop 2008 is probably the ideal distro for you, in that it was designed to specifically look like Windows Vista; if you're partial to the XP interface, look at Linux XP. Unfortunately, there isn't a lot of info about the Linux distro, perhaps as a way to keep the distro as non-frightening as possible.
It appears to be based off Debian, though that is not confirmed. It uses WINE as a way to allow you to run many different Windows apps. Overall, if you're trying to escape from the Windows-sphere, I recommend jumping into a 'normal' distro, such as Ubuntu or Sabayon. If, however, you're adamant about having as familiar of an interface as possible, Linux XP can be a good stepping stone.
The unfortunate part of this is that it is shareware--after 30 days, you have to buy a license, which many feels goes against everything Linux stands for.
---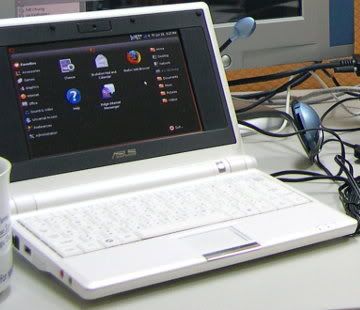 Some of the advantages of running Linux on a sub-notebook are a smaller memory footprint, better security and tons of free applications right out of the box.
Although, with a little tweaking, you should have better chances at installing Linux than Windows. So here are some Linux distributions I recommend you try out, because they are modified to work well with small screens and modest hardware.
If you read my blog often, you will know I am a strong supporter of Debian. And I have good reasons: the sheer number of packages, users and documentation is overwhelming. Debian is extremely compatible and easy to install, works on many different architectures and is mostly rock-solid. Sometimes Debian will simply work where most distros fail. That is why you may want to install Debian on your netbook:
- more than 20,000 packages waiting for you in the repositories
- tested for stability and reliability
As much as I am paranoid about distros that use the RPM format or an enhancement of it, I'll admit RPM has evolved a lot and is now very mature so no need to worry about dependency hell any more than on DEB-based distros. Even though Mandriva has prepared a special, currently unavailable netbook respin, the standard free version of Mandriva should now have full support for the most popular netbooks, such as the Eee. We've been discussing Mandriva in July on the Linux Void podcast and my co-host Peter was pleasantly surprised. As you may know already, Mandriva is a uRPMi-based French distribution that competes with Fedora, Ubuntu, OpenSuse and other desktop and new-user-oriented Linux distros. Mandriva prefers the KDE4 desktop, but it also features other desktop environments (GNOME and Xfce).