Source
Zeb Protect est un logiciel complètement freeware qui permet de sécuriser votre PC sous Windows en fermant certains ports sensibles aux attaques venant d'Internet. D'autres options sont également disponibles comme la suppression des partages ou la désactivation des comptes par défaut. Ce programme permettra ainsi à tout un chacun d'optimiser simplement et rapidement la sécurité de votre ordinateur. Suivez le guide!
1. Sécurisez votre PC en quelques clics
Le logiciel Zeb Protect est destiné à optimiser la sécurité de votre système d'exploitation en quelques clics. Il se compose de nombreuses options reprises du tutorial
Optimiser la sécurité de son PC
. Ce logiciel est prévu uniquement pour les versions suivantes de Windows : -
2000
-
XP Home
-
XP Pro
-
2000 server
-
2003 server
. Le logiciel étant encore en version bêta, il est fortement conseillé de faire un point de restauration système avant de l'installer.
Téléchargement du logiciel
Le logiciel Zeb Protect est disponible sur
cette page
. Seul ce fichier est nécessaire. Si vous disposez de Windows XP Home, vous devez également télécharger
HomePack.zip
afin de mettre en place l'onglet Sécurité qui n'existe pas sur cette version. A la fin du téléchargement, dézippez le fichier HomePack.zip dans le même dossier que ZebProtect.exe qui permettra l'installation de l'option Onglet de Sécurité.
Configuration du logiciel "ZebProtect.exe"
Le logiciel s'ouvre sur l'onglet principal. Afin de bénéficier de toutes les options du logiciel, nous vous invitons à cliquer dans le menu
Outils
: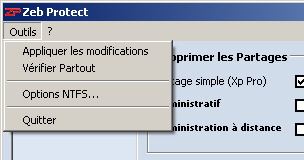 Appliquer les modifications : vous permet d'appliquer toutes vos modifications d'un seul coup
Vérifier Partout : revérifie toutes les cases et rétablie ainsi les valeurs de la sauvegarde précédente
Options NTFS : la fenêtre "Options NTFS" se compose en 2 parties :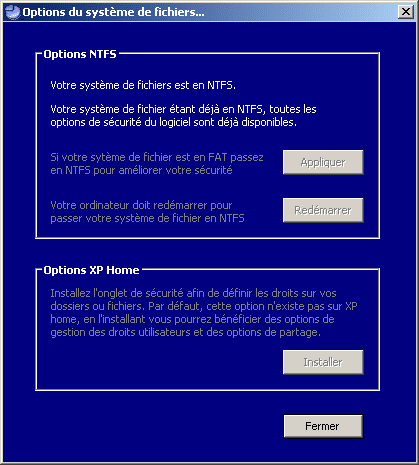 Options NTFS: cette option débloque certaines options du logiciel. Si votre système de fichier est en FAT32, l'option de conversion de votre système de fichiers en NTFS est disponible, il vous suffit de cliquer sur le bouton "Appliquer" afin que les paramètres soient pris en compte. Il vous sera proposé de redémarrer votre ordinateur pour que cette option soit appliquée.
Option XP Home: cette fonction n'est utile que pour les systèmes d'exploitation XP Home, vous pourrez l'installer uniquement si vous avez téléchargé le fichier HomePack.zip. Cette option va installer l'onglet "Sécurité" qui n'existe pas par défaut sur votre système d'exploitation.

Une fois que vous aurez cliqué sur le bouton Installer, l'installation vous demandera de remplacer un fichier: cliquez sur Non afin de conserver la version française Il vous sera demandé de redémarrer votre ordinateur. Maintenant, vous aurez accès à cet onglet dans les propriétés de chaque dossier/fichier ainsi qu'aux options Supprimer les partages du logiciel.
Si votre système d'exploitation est déjà en NTFS, le logiciel le reconnaîtra d'office et l'option sera grisée, c'est identique pour l'option XP Home si vous avez déjà l'onglet de sécurité installé sur votre machine.

Onglet Principal
L'onglet principal du logiciel se compose en 4 parties :
- Aide rapide : donne un aperçu de la fonction à chaque passage de souris sur une option
- Suppression des partages : suppression des partages par défaut de Windows
- Désactiver les comptes : désactivation des comptes à risque sur votre ordinateur
- Fermer les ports critiques : fermeture des services d'écoute de ports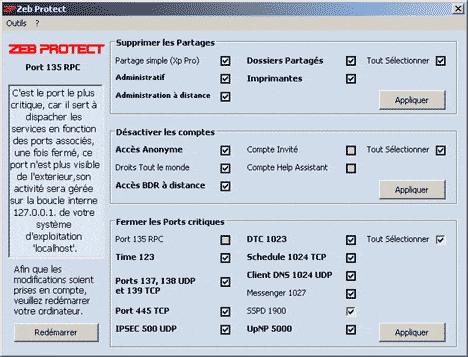 Cliquez sur l'image pour agrandir
Le Logiciel reconnaît si certaines options sont déjà activées en les signalant "cochées". Choisissez les options que vous souhaitez activer en les cochant. Certaines de ses options ne sont accessibles que si votre système d'exploitation est en NTFS.
Une fois toutes vos options cochées, cliquez sur Appliquer, le logiciel vous demandera de redémarrer votre ordinateur afin que vos nouvelles options soient prises en compte.

Suppression des partages
Supprimer le "partage simple" des fichiers et dossiers sous XP Pro:
Windows XP a ajouté un partage simple par défaut qui partage l'ensemble des documents du dossier Mes documents de chaque compte utilisateur du PC. Cette option permet d'accéder à l'onglet Sécurité des dossiers et fichiers.
Lorsque le mode "Partage de fichiers simple" est désactivé, les utilisateurs réseau devront s'authentifier en tant qu'utilisateur !
Supprimer les dossiers partagés sous Windows XP
:
Cette option évite de partager les dossiers et fichiers Mes documents de chaque utilisateur dans l'explorateur.
Supprimer les partages "Administratif" par défaut "C$ et ADMIN$" :
Cette option supprime les partages par défaut de Windows qui autorisent les administrateurs du réseau à se connecter sur votre machine.
Supprimer le partage "Administration à distance" :
Evite qu'un administrateur puisse se connecter à distance sur votre machine pour en prendre le contrôle.
Supprimer "Imprimantes" :
Ferme le partage de vos dossiers et imprimantes en réseau, cette option évite de montrer vos partages sur votre disque dur.
Désactiver les comptes

Désactiver le compte "Invité" :

Supprime la possibilité de se connecter sur la machine en mode accès anonyme.
Désactiver le compte "Help Assistant" :
Evite la recherche d'assistance de Microsoft par Internet pour la résolution de problème.
Désactiver les accès "Anonyme" :
Oblige chaque utilisateur à s'authentifier sur votre PC, s'ils ne sont pas inscrits, ils ne peuvent pas accéder aux partages de la machine.
Désactiver les droits "Tout le monde" :
Empêche le système d'accorder les droits "Tout le monde" aux utilisateurs anonymes, il faut qu'ils s'authentifient.
Désactiver "Accès à la Base de registre à distance" :
Empêche l'ouverture de votre base de registre par le réseau pour éviter les modifications et prendre le contrôle de votre machine.
Fermer les ports critiques



Port 135

:
Tous les autres ports doivent être d'abord "Fermés" avant de pouvoir fermer ce port.
Service permettant la réalisation des appels de procédures distantes (RPC ou Remote Procedure Call). Tous les actes administratifs distants sous Windows utilisent les RPC. Ce port est, en réalité, un dispatcher ou plutôt "port-mapper".
Lorsqu'une machine cherche à atteindre un service sur une machine distante, elle se connecte d'abord via le port 135 pour localiser le port réel sur lequel tourne le service qui l'intéresse. Ensuite elle dialoguera via le numéro de port qui lui aura été communiqué pour le service concerné.
Sujet à de nombreuses failles de sécurité que certains vers réseau du type Blaster exploitent, il est préférable de fermer ce port...
Cette option va interdire l'accès au port 135 afin qu'il soit inaccessible sur le réseau distant, son activité sera gérée uniquement sur la boucle locale 127.0.0.1. de votre système d'exploitation.
Port 123

:
Bloque le port et ferme le service de synchronisation de l'heure sur des serveurs Internet.
Port 137/138/139

:

137 NetBios Name Service : ce système permet de trouver un service donné sur une machine donnée sans connaissance préalable d'une quelconque adresse réseau (IP ou autre).
138 NetBios Datagram Service : ce port est essentiellement utilisé pour diffuser (broadcast) de l'information sur le réseau. En principe, seul le protocole UDP est utilisé sur ce port.
139 NetBios Session Service : c'est sur ce port que s'établissent les véritables connexions entre deux machines. C'est par exemple celui qui sera utilisé, lorsque vous aurez découvert une machine par le voisinage réseau, pour accéder à ses ressources (partages de fichiers et d'imprimantes). Seul le protocole TCP _les_ports est utilisé sur ce port.
445 TCP/UDP

:

Exécute le protocole SMB (partage de fichiers et d'imprimantes), ce port ferme le partage de fichier et d'imprimante sur un réseau distant.
500 UDP

:

Internet Security Association and Key Management Protocol : pour l'authentification sécurisée par échange de clés. Ouvert par lsass.exe. L'explication de ce service telle qu'elle apparaît dans le gestionnaire des services : "Stocke les informations de sécurité pour les comptes d'utilisateurs locaux".
Ce port fermé protège les informations des comptes d'utilisateurs locaux.
1023

:

Bloque le port qui coordonne les diverses transactions distribuées entre plusieurs bases de données.
Shedule 1024 TCP

:

Bloque le port du gestionnaire des tâches planifiées sur votre machine.
1024

:

Bloque l'accès au service de client DNS (Domaine Name Services).
1027

:

Ferme et désactive le service "affichage des messages", ce service permet d'envoyer des messages sur un réseau local, sa fonction a été détournée par certains Webmasters afin d'envoyer de la publicité non sollicitée.
1900 SSPD

:

Bloque le service de découverte Plug and Play Universels sur votre réseau local, ce port travaille en relation avec le port 5000.
5000

:

Bloque le service qui permet de mettre votre machine en mode "serveur" par défaut afin de découvrir automatiquement les nouveaux équipements réseau de votre réseau local, il travaille en relation directe avec le port 1900.
Il est possible que par la suite le logiciel s'enrichisse de nouvelles fonctionnalités. A suivre...
Pour toutes question relatives au logiciel et à son utilisation, veuillez utiliser le
Support Zeb Protect
.