CPUBurn v1.4
PassMark BurnIn Test
PassMark BurnInTest™ is a software tool that allows all the major sub-systems of a computer to be simultaneously stress tested for endurance, reliability and stability.
Assists in PC Troubleshooting and diagnostics.
The best value professional burn-in tool on the market!
The hottest, fastest CPU Burn In tool around! (See our CPU Heat Generation benchmark testing)
Avoid delivering D.O.A. (Dead on Arrival) hardware to your customers.
Dramatically reduce your burn in times with multithreaded simultaneous testing of components.
Build your image as a supplier of quality systems.
Avoid costly downtime, system rebuilds and lost data.
Test the stability of a system after configuration changes or hardware upgrades (critical for overclocking).
Anyone who has used computers for any period of time will understand the importance of having a stable system. The cost of a hardware failure can be enormous. If you are lucky your data will only become inaccessible while faulty components are replaced. If you're unlucky you can lose your files completely or have them permanently corrupted. Even if you have good backups, you can still lose days of work returning the PC to its pre-failure state. In many cases the
lost data can never be replaced
and businesses can be brought to their knees, with the loss of documentation, customer details and financial records.
Platforms:
Windows XP SP3, 2003 Server, Vista, 2008 Server, Windows 7, Windows 8 developer preview.
Available for both 32-bit and 64-bit platforms.
(Also available for Linux)
=============== ================
Intel Active Monitor v1.2.1
SpeedFan
is a program that monitors
voltages
,
fan speeds
and
temperatures
in computers with hardware monitor chips. SpeedFan can even access
S.M.A.R.T.
info and show
hard disk temperatures
. SpeedFan supports
SCSI
disks too. SpeedFan can even change the FSB on some hardware (but this should be considered a bonus feature). SpeedFan can access
digital temperature sensors
and can
change fan speeds
accordingly, thus reducing noise. SpeedFan can find almost any hardware monitor chip connected to the
2-wire SMBus
(
System
Management Bus (trademark belonging to SMIF, Inc.), a subset of the I2C protocol) and
works
fine with Windows 9x, ME, NT, 2000, 2003, XP, Vista and Windows 7. It works with Windows 64 bit too.
SpeedFan lets you take a deeper view at the status of your computer. Almost every computer includes support for hardware monitoring. Accessing
digital temperature sensors
is really useful. If you are trying to figure out why your PC hangs when under heavy load or after some hours of usage, SpeedFan might help you find the real cause. Very often it is a poor power supply, or an improperly installed heatsink that lead to behaviours that we tend to associate (incorrectly) with errors from the operating system. SpeedFan automatically searches your computer for informative chips: the hardware monitor chips. SpeedFan can display
voltages
,
fan speeds
and
temperatures
. On rare occasions, the BIOS doesn't activate such features. SpeedFan tries to enable them as long as this is a safe thing to do. Not only the motherboard is searched, but also some video cards and almost every currently sold hard disk. SpeedFan can access status info from EIDE, SATA and even
SCSI
drives, consistently showing internal data that can be used to diagnose current and future hard disk failures. This is known as S.M.A.R.T. (Self-Monitoring Analysis and Reporting Technology). At the lowest level, the SpeedFan hardware monitor software can access digital temperature sensors, but its main feature is its ability to
control fan speeds
according to the temperatures inside your PC, thus
reducing noise
.
SpeedFan can handle:
almost any number of South Bridges
almost any number of hardware monitor chips
almost any number of hard disks
almost any number of temperature readings
almost any number of voltage readings
almost any number of fan speed readings
almost any number of PWMs
Download
================ ================
================ ================
PCWizard
is a powerful utility designed especially for detection of hardware, but also some more analysis. It's able to identify a large scale of system components and supports the latest technologies and standards. This tool is periodically updated (usually once per month) in order to provide most accurate results.
PC WIZARD
is also an utility designed to analyze and benchmark your computer system. It can analyze and benchmark many kinds of hardware, such as CPU performance, Cache performance, RAM performance, Hard Disk performance, CD/DVD-ROM performance, Removable/FLASH Media performance, Video performance, MP3 compression performance.
Hardware Information
Mainboard / Bios (Connectors, ID String, MP Support ...)
Chipset (FSB Frequency, Norhtbridge, Hub, Direct Media Interface, XMB, NSI, ...)
Main Memory (FPM, EDO, SDRAM, DDR SDRAM, DDR-2 SDRAM, DDR-3 SDRAM, RDRAM, FB_DIMM, Timings ...)
Memory Profiles : EPP (SLi Ready), Intel XMP.
Cache Memory (L1, L2, L3, Size, Frequency ...)
Processors (Type, Speed, Multiplier coeff., Features, Model Number, Vanderpool Technology ...)
Coprocessor
APM & ACPI
Busses : ISA, PCI, AGP (2x, 4x,8x), SMBus/ i2c, CardBus, Firewire, Hyper-Transport ... )
DMI / SMBIOS
Mainboard Sensors, Processor, Hard Disk & Battery (Voltage, Temperature, Fans)
Video (Monitor, Card, Bios, Capabilities, Memory, Integrated Memory, Frequencies ...)
OpenGL & 3Dfx
DirectX (DirectDraw, Direct3D, DirectSound (3D), DirectMusic, DirectPlay, DirectInput, DirectX Media)
Keyboard, Mouse & Joystick
Drives (Hard Disk, Removable, CD-ROM, CDRW, DVD ...)
SCSI (Card, Controller, Adapter, Devices ...)
ATA/ATAPI & S-ATA (Devices, Type, Capabilities, S.M.A.R.T. Features, RAID)
Ports (Serial, Parallel, USB, IEEE-1394)
IDE & SCSI Devices
Twain & WIA Devices
PCMCIA (PC Card) Devices
Bluetooth Devices
Biometric Sensor Devices
Sound Card (wave, midi, aux, mix, AC'97 codec, High Definition Audio)
Printers (Local & Network)
Modem (Features, Speed ...)
Network (Server, Connexion, Firewall ...)
Security (Scan Ports ...)
PocketPC & SmartPhone Devices
Virtual Machines
System Information
MCI Devices (mpeg, avi, seq, vcr, video-disc, wave) & ACM
SAPI
Passwords (Outlook, Internet Explorer, MSN Messenger, Dialup ...)
DOS Memory (base, HMA, UMB, XMS, EMS, DPMI, VCPI)
Windows Memory
Windows (Version, Product Key, Environment, Desktop, XP Themes ...)
Windows UpTime (Boot, Shutdown, BlueScreen, System Restore Points ...)
TrueType & OpenType Fonts
WinSock (Internet), Telephony et Remote Access
OLE (Objects, Servers ...)
Microsoft© Applications
Activity (Process, Tasks, Threads)
Modules (DLL, DRV, 32 & 16-bits) & NT Services
Internet Navigator (Microsoft Internet Explorer, Netscape, Mozilla, FireFox)
.NET Global Assembly Cache (GAC)
ODBC
CMOS/RTC
Resources (IRQ, DMA, E/S, Memory)
System files (.ini, .log, .bat, .nt, .dos ...)
System Benchmarks
Processor (Dhrystone (MIPS), Whetstone (MFLOPS), Mandelbrot fractal ...)
L1, L2, L3 Cache, RAM (Bandwidth, Latency ...)
Main Memory (Bandwidth, Latency ...)
Hard Drives
CD/DVD Rom
DirectX
Video
Removable/Flash Support
MP3 Compression
VISTA Experience Index
MEMORY and CACHE: These benchmarks measure the maximum achiveable memory bandwidth. The code behind these benchmarks method is written in Assembly (x86, SSE, SSE2, SSE3). Memory benchmarks utilize only one processor core and one thread.
PROCESSOR : These benchmarks measure performance in terms of Integer Millions of Instructions Per Second (Integer MIPS) and Millions of Floating Point Operations Per Second (MFLOPS). The code behind these benchmarks method is written in Assembly (x86, x87, MMX, SSE, SSE2, SSE3, 3DNOW!). Processor benchmarks are HyperThreading, multi-processor (SMP) and multi-core (CMP) aware.
================ ================
================ ================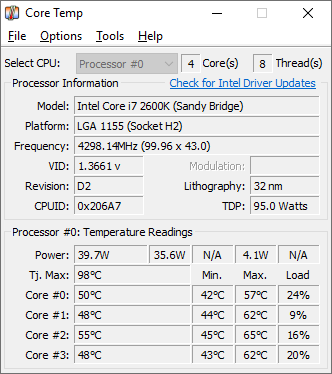 Core Temp
is a compact, no fuss, small footprint, yet powerful program to monitor processor temperature and other vital information.
What makes Core Temp unique is the way it works. It is capable of displaying a temperature of each individual core of every processor in your system!
You can see temperature fluctuations in real time with varying workloads. Core Temp is also motherboard agnostic.
All major processor manufacturers have implemented a "DTS" (Digital Thermal Sensor) in their products. The DTS provides more accurate and higher resolution temperature readings than conventional onboard thermal sensors. (How does it work?).
This feature is supported by all recent x86 processors. Processors by Intel, AMD and VIA are supported. A complete list of supported processors is available.
Core Temp is easy to use, while also enabling a high level of customization and expandability.
Core Temp provides a platform for plug-ins, which allows developers to add new features and extend its functionality. You can find our plug-ins and add-ons here.
Core Temp Mobile is an app, currenly only available for Android. In conjunction with the Core Temp Remote Server, it allows you to monitor your machines outside of your home or office.
Download and installation instructions
Core Temp Gadget 2.7

This is a sidebar gadget for Windows Vista and 7 for use in conjunction with Core Temp. There is not much to say about it, I think the screenshot speaks for itself.
the gadget requires Core Temp 0.99 or higher to be running for it to work.
Download
Core Temp MC is a Windows Media Center add on (supported in Vista and Windows 7) which allows the user to view the status of their processor directly from Windows Media Center's UI.
Download
Core Temp Grapher comes as a plug-in (dll) or standalone (exe). It will display a graph per processor core displaying the load percentage and core temperature. For best results with the Grapher, you should use the latest Core Temp version available.
Setup and usage instructions can be found in the "readme.txt" file.
Download plug-in: 32 bit 64 bit

This plug-in allows applications to connect over a network to Core Temp and recieve updates on your processor's status, similar to the sidebar gadget.
It's a required plug-in for Core Temp Mobile
Requirements: Windows XP SP2 or higher + .Net Framework 3.5.
Download
An addon for the "SystemInfo" script. It requires Core Temp 0.99 or higher to be running to work properly.
The installation instructions are inside.
Download
"VCTemp is an open-source tool that interfaces with CoreTemp to allow you to view the temperatures on a remote machine.

This can be useful to keep an eye on processor temperatures of your rig while fullscreen gaming."

DISCLAIMER: VCTemp is a third party tool, and any questions, suggestions, bug reports and complaints should be directed to the developer.